Here are some facts regarding our veterans:
16 million Americans served in World War II
The youngest of WW2 veterans will be 90 this year (if they enlisted in 1945 at age 17)
At age 112, Richard Arvin Overton is the oldest verified World War II veteran
We are losing 372 WW II veterans per day
There are still about 496,77 veterans from WWII living
The chart below is from the National WWII Museum website showing the future decline of the living veterans from WW II.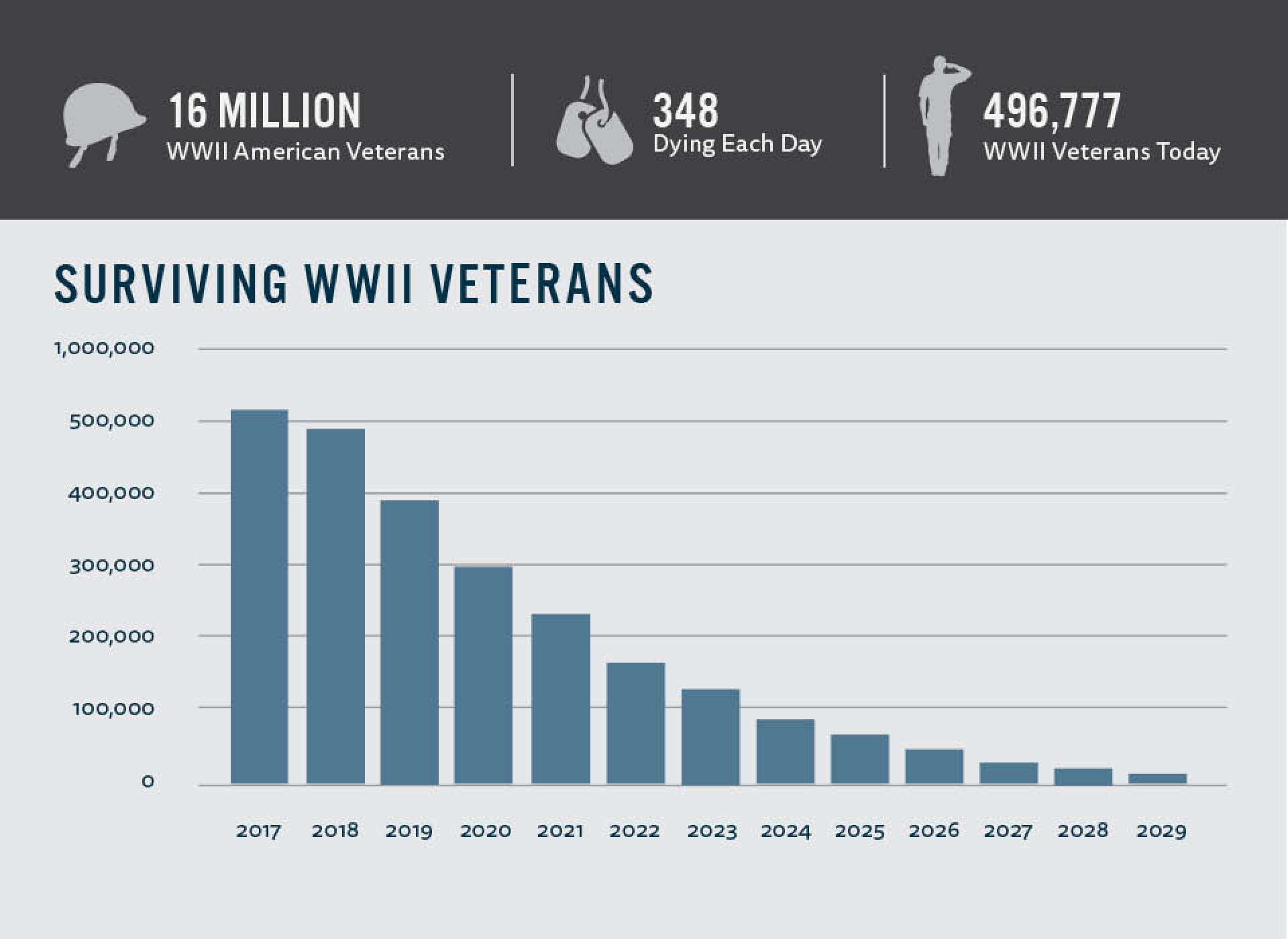 Many organizations and individuals are collecting stories from WWII veterans to share with future generations. Below you can find a selection of oral history resources:
A young man, Rishi Sharma is interviewing many surviving WWII veterans. Sharma has spoken with over 850 veterans in 45 states. Here is the website he has created.  Additionally, Rishi has set up a channel on YouTube with 845 interviews to which you can listen.
The World War II Foundation is also collecting oral histories and selling documentary movies in order to raise funds for their projects. The Global Education Center tab on the World War 2 Foundation's website has resources for teachers as well as anyone just wanting to learn more about WWII and personal stories. They will be opening a Global Education Center in Rhode Island on Jan 15, 2019. This area of the website includes a reading list of useful and interesting books.
Friends of the National World War II is a nonprofit organization dedicated to honoring and preserving the national memory of WWII. Included in their website is a section titled Memorial's Voices of World War II which contains oral histories.
The Library of Congress also has an oral history project called the Veterans History Project. You can find their stories here. The website has directions on "How to" patriciate in the project, listen to interviews, and select webcasts they have collected.
The Library of Congress has collections of oral history from other wars for those interested in veteran's experiences beyond the Second World War.
The above four resources are just a small sampling of the information available from primary sources. These sources will take you from general information to learning unique facts, such as the " Black Tears" or a "Gold Star Family".
Recording oral history has been ongoing for a number of years. The focus on these interviews has been to keep safe the memories of an individual who experiences an event first hand. This makes these stories a primary source. Instead of a written biography, this story is a mini audio-biography specific for a particular location or event. Our military history has been long, fierce and made possible by the men and women who have served. This day is to honor them.
Hats off to all our veterans and thank you for your service.
Contributed by Joan Wagner, Chief Librarian at Bay Shore.